TRID30-7R and TRED30-7R model LogTags have replaceable batteries.
When you see that the battery showing Low on-screen or in the LogTag software, you should replace it immediately.
Buy a replacement CR2032 battery
These are very common and can be found at most supermarkets, newsagents and hardware stores. There are many brands available.
Download data
When you remove the battery, any data on the LogTag will be lost so download the data before you begin.
Hibernate the LogTag
"Hibernating" the LogTag basically switches it off. Do this by inserting the LogTag in the Reader and choosing Hibernate from the LogTag menu.
Carefully remove the white sticker covering the battery door
The best thing to use is a small jeweller's screwdriver. Try and keep this sticker intact so that you can reuse it.
.
Open battery door
Use a coin, or even the replacement battery to turn the battery door cover anti-clockwise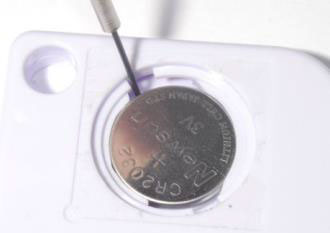 Remove the old battery
Use the screwdriver to carefully pop the old battery out of its enclosure.
Insert the new battery
Inside the right hand side first against the battery contact, then press down firmly to seat the battery.
Replace the battery door
Turn the door clockwise to lock it.
Cover the door with the sticker
Dispose of the old battery
Please dispose of the battery in accordance with local regulations